Howie Busch invented the DudeRobe specifically for men. What makes it stand out and loved is its absorbing towel-like terrycloth inner lining and cozy sweatshirt material outside and, of course, the hood. Busch brought his company onto Shark Tank Season 9, featured in Episode 16.
Details of the DudeRobe Shark Tank Deal
Company: DudeRobe
Offer: $150,000 for 18% equity
Pitch Valuation: $833,333
Did they Accept Investment: No
Investing Sharks: None
Winning Counter Offer: None
Final Valuation: While the Shark declined, DudeRobe is still in business and has grown an estimated $2 million in gross revenues.
DudeRobe Net Worth
As of 2022, DudeRobe's net worth is 3 million with an annual revenue of 2 million.
Our Review of DudeRobe
Dude Robe is a product designed by Howie Busch, which sells robes and loungewear for men. Hit by the concept that not all men like robes, but they do like to be comfy. After a shower one day, Busch saw his hoodie hanging by his towel. What if a towel was like a hoodie? He'd wear that. Boom! DudeRobe was born.
A fresh take on the traditional bathrobe DudeRobe first got its start on Kickstarter, gaining $25K of fundraising in 2 days, then went on to be featured on ABC's Shark Tank. They've updated the traditional robe to make it something modern men genuinely want to wear. The DudeRobe resembles a long hoodie more than a conventional bathrobe. According to Busch, the garment appears stylish and modern from the outside. Reminiscent of street clothes outside, but a soft, warm, and cozy feeling on the inside.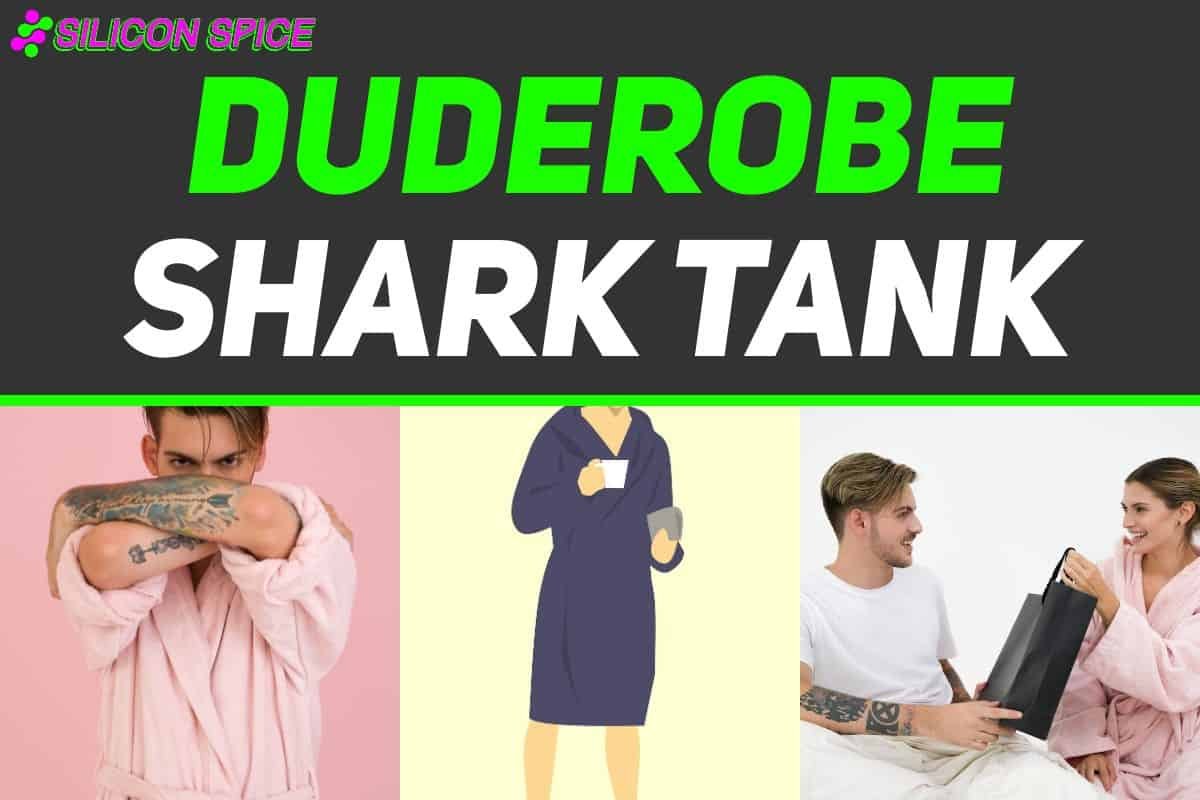 Gentlemen of all sizes and shapes will enjoy relaxing in luxury because they designed the product for ease of use. Also, the company is producing extra-large sizes like double XL and triple XL to ensure that every male can fit. You don't want anyone to be seen wearing a standard robe, but with DudeRobe gear, you will want to be seen.
You can wear a DudeRobe regardless of whether you are into robes or simply aren't a "robe man." It's ideal to use it after a shower before getting dressed for the day or wearing it to lounge around for the day, especially paired with their DudePants and DudeShorts crafted from the same material. Wear while kicking back at home, taking the dog for a stroll, and pretty much wherever else you want to unwind and feel comfy.
The DudeRobe Features
Hoodie Style
Interior with Fleece. The inner cotton fleece is incredibly soft and highly absorbent, keeping your guy dry and cozy throughout the day. The distinctive interior resembles a towel and is ideal for use after using a sauna, hot tub, or shower. Moreover, this robe's unparalleled softness makes it a must-have for at-home lounging.
The patented Never-Lost belt is permanently attached, making it impossible to lose.
Non-Floppy Arm Cuffs. With wrist cuffs reminiscent of a hoodie, you can say goodbye to your wizard-like floppy sleeves.
 Additional Pocket Inside. You have even more space to store your wallet, phone, and other masculine electronics.
DudeRobe makes the perfect gift for any man and is loved for its innovative design that no ordinary man's bathrobe can do. The internal towel design soaks up any water that would otherwise need to be wiped with a towel. So toss that towel away and just slip on your DudeRobe. Ideal for when stepping out of the shower or pool, you can now be totally covered and totally dry, plus it protects your manliness from any you know dude slips.
Pros
High comfortability
Better style than the traditional robe
 Strong absorbance quality due to its inner towel lining
Unique product
Cons
Men don't frequently buy bathrobes
Heavy weighted
Lacks color choice
Seems to market to only the athletic demographic
A bit pricey
So join the Robe-o-lution.
Who Is DudeRobe For?
Specifically designed for males, DudeRobe targeted the " athletes." Their pitch was,
"In sports, Nike, Adidas & Under Armour own the field. Gatorade owns the Sideline.
But who owns the locker room? That's where DudeRobe comes in. "It was for guys who
would rather take a shower and change into a robe in the locker room than a skimpy towel.
But DudeRobe is really for anyone who wants comfort and casual downtime wear. Ideal for the female shopper who is looking to buy something special and unique for their significant other, or male family member.
Are There Any Alternatives?
You can say there is no competitor to DudeRobe because of its original concept and design. Although the regular bathrobe poses a challenge to DudeRobe in a larger market. That is where DudeRobe seeks to outperform conventional bathrobes.
Yet, DudeRobe is more than simply a robe. They have a complete collection of loungewear with their special soft absorbing towel lining and sweatshirt-style-outer material for guys, including hoodies, shorts, pants, and even slides. Because, as their Kickstarter pitch said," Regular robes are too feminine for actual males."
Other Pitches from this Episode of Shark Tank
G.O.A.T Pet Speaker
The Longhairs
Joes Gourmet Fish Fry
BrightWheel
Our Final Thoughts
While Shark Tank said no DudeRobe still seems to be going strong and adored by many. There is even talk of creating DudeRobe for HER due to the increasing number of females being interested and stories from the dudes saying their girlfriend has stolen their DudeRobe. Comfort seems to be the winning key for DudeRobe as they still continue to be in business.